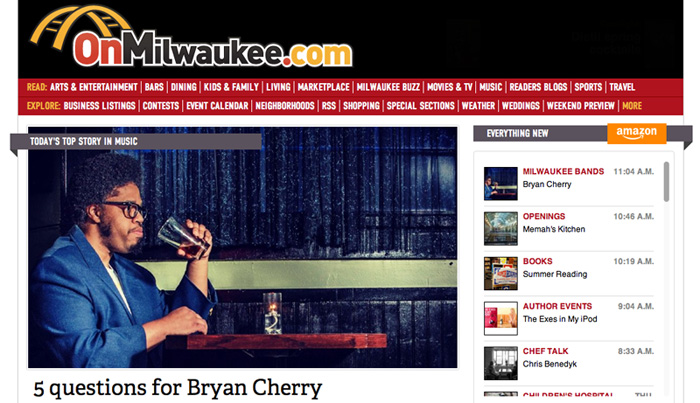 Photo by Berkley Burch Photography
Article written by Bobby Tanzilo
Despite an active schedule for its frontman, the Bryan Cherry Band has been unusually quiet lately. It's been four years since the band — fronted by singer, songwriter and guitarist Bryon Cherry (yes, with an "o") — released a CD.
But now, the five-song "Black Holes" is here, and it showcases Cherry's distinctive voice and his blues and jazz-inflected songs that often conjure the 1970s work of Terry Callier.
The disc is also the first to be released simply as "Bryan Cherry," sans "Band," though it is the work of a quintet that also includes guitarist Sean Williamson, bassist Matt Wilson, keyboardist Marc Ballini and drummer Olen Franklin.
As the group announces a Summerfest appearance at 2:30 p.m. on Friday, June 27 on the Johnson Controls World Sound Stage, we asked Cherry about the new record.
OnMilwaukee.com It's been a while since the last record, what has the band been up to during that time?
Bryon Cherry: I've stayed busy writing and performing here and there. Everyone in the band has been immersed in multiple bands in town over the years, playing with RAS Movement, Sam Llanas, De La Buena and Painted Caves just to name a few.
I've been lucky enough to always have great players willing to work with me, and in turn I always make sure everyone has plenty of space.
OMC: Why such a long time between CDs?
BC: I was staring into the universe harvesting song ideas. The band never broke up but we needed some time to explore other creative outlets. There's never been a rush to put out another record.
Sometimes putting a book down for a little while makes it more interesting when it's revisited. Especially when it's about astrophysics.
OMC: Tell us a bit about making this EP; did you record more than the five that are included?
BC: We recorded it with Lodewijk Broekhuizen at lb. Recordings. Sean Williamson and I got together before going into the studio and picked the tunes to record. So, we actually only recorded the five.
I kind of feel that longer records are getting lost in our fast-paced ADD society.
OMC: The materials that come with it say that each song was crafted to crossover genre barriers. Do you guys make a conscious effort to play around with genres or does it happen more naturally based on the music band members enjoy?
BC: It's something that happens naturally. For us there is no trying to do anything as that's when things tend to suck. It does happen that our influences come in and out of focus throughout the tunes.
Williamson played both guitarist and producer on this record. He helped it to be more direct and more pop oriented in our own weird way.
OMC: Is this a teaser for a longer record to come or is this more a stand-alone project?
BC: This is a stand-alone project. These songs just fit together and they'll radiate forever from here to Alpha Centauri and back. They are just an expression of where we were at.
Up next for us is playing some shows and hopefully doing some more recording.